A French Quarter Boutique Hotel
Book your stay today at Bienville House, an 83-room boutique hotel located in the heart of the French Quarter. From standard guest rooms to a penthouse suite, a stay at Bienville House will create memories that are sure to last a lifetime. Our exceptional service and friendly staff have made us a popular French Quarter destination for couples, families and business travelers.
"I highly recommend the Bienville House. We have stayed here the past two times we have been to NOLA. It is in a great location. Love the decor. Great staff!" ~ Leigh Campbell Ishee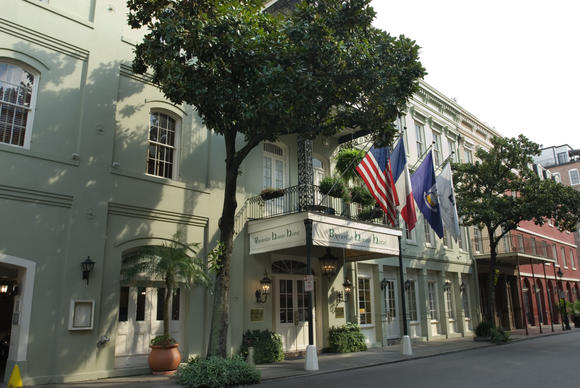 "We stayed in November and the hotel is very close to everything and we walked everywhere we went. The room was nice and I loved the antique look of the place. Will stay here again!" ~ Elizabeth Lee Carter
What Sets Bienville House Apart
Complimentary continental breakfast daily
Outdoor, heated salt water swimming pool
Complimentary WiFi
Pet-friendly rooms
ADA compliant guestroom and facilities
Non-smoking hotel
Valet parking
Access to nearby business center
Access to nearby fitness center
Laundry/dry cleaning service
Meeting facilities
Safety deposit boxes
On-demand, in-room movies and games
Located in the heart of the French Quarter
Learn more about all of our hotel services and amenities and the types of rooms available.
"Stayed at the Bienville House the last two years we went to New Orleans. Great staff. Miss Cynthia at the front desk is the reason we came back. Awesome location. You are only steps away from everywhere you want to go." ~ Leah Soucie
Explore New Orleans, Just Outside Our Doors…
Bienville House is located at 320 Decatur Street, just steps away from all of the excitement that New Orleans has to offer, including historic landmarks like Cafe Du Monde and Jackson Square.
Just outside our doors, you'll find upscale shopping at the Shops at Canal Place and The Outlet Collection at Riverwalk, or explore local boutiques, antique stores and art galleries on Royal Street. We are only a few blocks from Bourbon Street nightlife and a quick pedi-cab ride from world-renowned jazz clubs on Frenchmen Street.
Travelling with little ones? Bienville House is just a few blocks away from the Audubon Institute Aquarium of the Americas and the Audubon Butterfly Garden and Insectarium, or take the famous St. Charles streetcar uptown to meet the animals at the Audubon Zoo.
Want to experience the delicious dining that New Orleans is famous for? Get started at our very own Latitude 29, which serves up exotic Tiki cuisine and cocktails that includes options for our gluten-free, vegetarian, and vegan guests.
Read more about our favorite things to do and places to eat in New Orleans.
"Our favorite hotel in New Orleans. We've been staying there for over 17 years, in fact my husband has never stayed anywhere else in New Orleans, that's how much we love this hotel. Very clean and the people are very friendly and helpful." ~ Regina Dumas-Johnson
"We just returned home from our 2nd visit to NOLA and Bienville House. My husband and I were so looking forward to visiting with you again. We reserved a Deluxe King room this time. It was just as lovely as the Sun Deck room we had the last time. I always praise your hotel when I am asked where we stayed. Of course, your staff was wonderful. And Miss Cynthia is an asset to your establishment." ~ Phyllis DeMarco
What are you waiting for?