Robin Barnes Jazz Quartet Nov. 22, 2013
Upcoming New Orleans Events
Robin Barnes Jazz Quartet Nov. 22, 2013
Friday, November 22, 2013 5:00 PM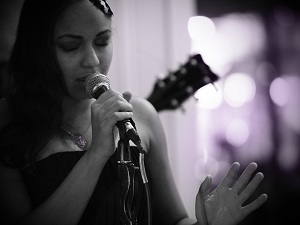 Growing up in New Orleans surrounded by a musically talented family and the Jazz influences of the city, Robin Barnes was destined to pursue a career in music from an early age. With inspiration that encompasses the soulful and insightful musings of Etta James, Irma Thomas, and Adele, Robin has been using her vocal talents to explore the many avenues and facets of music by carving out a niche for herself with a modern take on edgy jazz. Her performances with her captivating covers that include classic pieces such as "At Last" and soulful version of Kanye West's "Heartless". Most recently, she collaborated with Ricky B on "The Night Falls" and has been asked to sing on Damian Nevilles upcoming album. Her first single as a solo artist, "Complicated", is a sultry, blues piece that showcases her talents as a songwriter and her strength as a soulful singer. Visit the Robin Barnes official site for more information on the New Orleans songbird.
Stay With Bienville House Hotel New Orleans
Book your New Orleans hotel for Robin Barnes Jazz Quartet Nov. 22, 2013 with Bienville House Hotel.
Category:
Tags: