Chance Bushman & The Smokin' Time Five Nov. 20, 2013
Wednesday, November 20, 2013 8:30 PM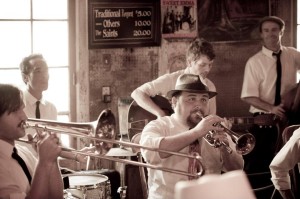 The Smoking Time Jazz Club is for fans of the classic New Orleans sound, and will be greatly enjoyed by fans of Meschiya Lake & the Little Big Horns. Speaking of those Little Big Horns, drummer Mike Voelker plays with both groups, and the other band members are also in on the New Orleans musical hustle– if you haven't caught Smoking Time yet, you may recognize their players from other stages around the city.
Their album "Oh Sister, Ain't That Hot!" features regulars Sarah Petersen (lead vocals), John Joyce (bass; The Jumbo Shrimp Jazz Band, formerly of The Morning 40oz. Federation), Colin Myers (trombone; The Jumbo Shrimp Jazz Band), Jimbino Vegan (clarinet; The Jazz Cannibals), and Jack Pritchett (trumpet; Los Po Boy Citos), plus guest player Aurora Nealand (Panorama, Royal Roses). The new CD was engineered by Earl Sciounioux and recorded at Piety Studios in the 9th Ward.
The Smoking Time Jazz Club landed in New Orleans after touring around the world by bicycle with the Cyclown Circus in over 45 countries for eight years. Their traveling menagerie included the jazz band, a circus, and an upright bass, plus nine clowns on tall bikes. "After all that," bass player John Joyce relates, "what else was there to do but stay here and soak up some culture from the New Orleans, the place where it all started?!"
Stay With Bienville House Hotel New Orleans
Book your New Orleans hotel for Chance Bushman & The Smokin' Time Five Nov. 20, 2013 with Bienville House Hotel.
Category:
Tags: